Released on Jul. 28, 2022
Polyvinyl chloride, better known as PVC, is a very common thermoplastic material. It is known for its durability and excellent flame, chemical, and abrasion resistance. PVC exhibits good dimensional stability, and high resistance to weathering and impact, as well as good dielectric properties. Tensile strength is roughly 6,500 psi.
PVC thermoplastics are available in range of durometers, from soft and flexible to hard and rigid, which makes the material a good choice for a wide range of applications. All PVC types/grades exhibit excellent dimensional stability, making them ideal for injection molding.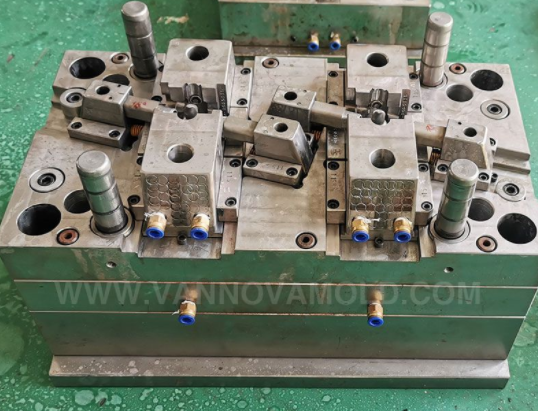 Understanding PVC Processing in Plastic Injection Molding
Polyvinyl Chloride or PVC is one of the most popular industrial thermoplastics chosen to create a variety of plastic products. These include pipes, medical tubes and containers, electrical cables, and construction vinyl siding. As this material is in great demand, manufacturers need to follow a systematic process when designing and producing PVC products.
Features of the PVC Injection Molding Process
The custom injection plastic products processing is one that requires knowledge of PVC as a material, state-of-the-art equipment, and factors like temperature, and speed. These points are discussed in detail below:
Machine Type: Generally, PVC can be molded with reciprocating screw injection molding machines. These should consist of plasticating screws to ensure that the material in its melted form is consistent for effective injection into the mold cavity. The screw compression ratio should be less or equal to 3.0:1.
Clamp Capacity: For PVC injection molding the manufacturer will require an injection molding machine, which has a clamp force of 1.5 to 2.5 tons per square inch.
PVC Conditions: The temperature of the melted PVC should be checked by directly inserting a needle pyrometer into the material. The most optimum melt temperature for PVC should be generally be between 345 oF and 375oF.
Molding Conditions:
Mold Temperature: The appropriate temperature range for the molds is from 70oF to 130oF. The importance of mold temperature is the effect it has on material shrinkage.
Nozzle Temperature: The temperature of the nozzle needs to be adjusted from the barrel zones to ensure that the melted PVC remains within the injection cylinder. If not, there can be a tendency for the nozzle to freeze, thus preventing the melted material from being injected properly. Excess temperature can lead to the PVC leaking from the nozzle. Leakage can be prevented by using pressure relief devices. This can suck the PVC back into the cylinder.
Injection Speeds: The amount of speed used in an OEM injection mold operation will depend a great deal on the dimensions of the mold, and the thickness of the PVC. Generally, thin parts can be filled at higher speeds compared to parts that are thick in shape. However, it is always recommended that moderate speeds be used for the injection process.
Backpressure and Screw Speeds: The term backpressure refers to the molten PVC resisting forward flow. A combination of backpressure and screw speeds allows for effective molten PVC injection into the mold. Minimal back pressure ranging from 50 to 125 psi is recommended. Excess back pressure can increase the overall molding process time. Screw speeds should be set to slow or medium.
Processing Time: Generally, the average time to produce a PVC part is anywhere between 30 and 60 seconds. However, processing time can be increased depending on factors such as the size of the part, its dimensions, and mold temperatures. Taking these factors into account, and the number of parts to be produced, the manufacturer can provide an estimated time of delivery to the client.
Knowledge of these various points can help a client understand the steps taken by a custom plastic injection molding service provider to create a product. Understanding these points can also help a client to accurately explain his product requirements to the manufacturer. This will allow the service provider to design and produce a plastic product that will effectively support the industrial application.
If you are finding plastic injection molding companies, please contact us now!